KIM WATERS
District Governor
Rotary Club of Hall County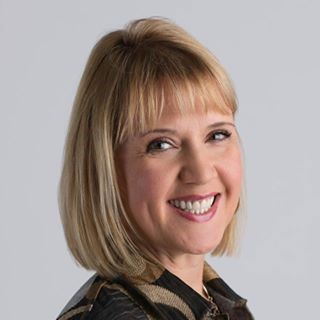 A charter member of the Rotary Club of Hall County, Kim is excited about serving during the Foundation Centennial year as governor. Kim served as Club President in 2010-11. Additionally, she has served as her club's Secretary, Rotary Foundation Chair, and Public Image Chair. The Rotary Club of Hall County recognized Kim as the club's Rotarian of the Year in 2011-12. Kim holds the badge of perfect attendance since joining Rotary, and has sponsored several new members.
Also active at the District Level, Kim has served as an Assistant Governor, and District Social Media Chair. She is a graduate of the Rotary Leadership Institute (RLI), and is a discussion leader for RLI.
Passionate about her favorite charity, The Rotary Foundation, she and husband, Past District Governor David Stovall, are Level 3 Major Donors. Kim is a Paul Harris Society Member and Bequest Society Member. Outside Rotary, Kim's community involvement has involved serving on Boys & Girls Club of Hall County's board, and she has served as President of EAA (Experimental Aircraft Association) in Gainesville.
A native of Gainesville, Georgia, Kim grew up in Dawsonville and has called North Georgia home her entire life. She is a real estate broker, selling real estate in Northeast Georgia since 1988. Kim is a Partner and Associate Broker with The Norton Agency, an insurance and real estate brokerage firm.
She and husband Past District Governor David Stovall reside in Gainesville and Hiawassee, Georgia, and are active members of Nacoochee Presbyterian Church. They have a daughter, Claire, recently graduated from Duke University. As avid aviation enthusiasts, Kim and David are instrument-rated pilots, both land and sea. They recently restored a Cessna 150, a two-seater they named "Janey." Her hobbies include walking, cooking and blogging.
David (Coop) Wayne Cooper District Governor 2017-18 The Rotary Club of Rockdale County 2260 Costley Mill Road NE Conyers, Georgia 30013 (Cell) 678-231-1430 dcooper@premierplatforms.com
David "Coop" Cooper was born in Amarillo, Texas, and although he has since lived in several states, he remains a native Texan at heart. During the 1960s, he moved with his family to Missouri as his father climbed the corporate ladder from clerk to train master for Rock Island Railroad. While attending high school in Jefferson City, Missouri, Coop excelled at Cross Country and Track, and received a track/cross-country scholarship from Oklahoma Christian University.
Graduating with a Business Management degree, Coop began working in the grocery business. He found his calling, however, in the summer of 1980, when a college friend offered him a sales position with an aerial lift rental company. He never left the industry, and today, Coop is president of Premier Platforms, Inc., an aerial lift rental and sales company he founded and first began operating out of the back of his and Cheryl's house in July 1994. The company currently has 40 employees and three locations in Georgia.
A person who sticks with something he loves, Coop knew not to let Cheryl Whitehead go upon meeting her on a blind date in 1986. Thankfully, the former Louisianan felt the same, so Cheryl and Coop married on March 21, 1987. They have two sons, Chris and Travis, and two grandchildren, Gavin and Katie.
In addition to work, family and Rotary, Coop also has a passion for hunting. In September of 2014, he harvested an Alaskan trophy moose. Experiencing the outdoors, especially in beautiful places like the Alaskan wilderness, most entices him to the sport.
Coop joined the Rotary Club of Rockdale County on April 19, 2006, noting that the "Fun Club" knew how to have a good time while doing good things in their community. Likewise, not wanting to miss out, Cheryl also joined the Rotary Club of Rockdale County and became highly active with the youth in their community. At the club level, Coop has served as International Service Chair, Club Administration Director, Club Secretary (twice), President Elect and President. He received the club's Pat Atkins Service Award in 2007 and the District 6910 Robert S. Stubbs Guardian of Ethics Award in 2014. At the District level, Coop has served as 2013 District Conference Co-Chair, District 100% Paul Harris Fellow Club Chair and Assistant Governor for Area X. Coop is a Hue Thomas Fellow, Will Watt Fellow and a Rotary Foundation Major Donor (along with Cheryl), a Paul Harris Society Member, and a Bequest Society Member.